Learning Disability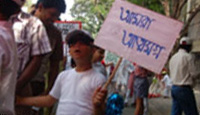 Learning disability is a classification which includes several disorders in which a person has difficulty learning in a typical manner. This disorder affects brain's ability to receive and process information. Individuals with learning disabilities can face unique challenges that are often pervasive throughout the lifespan. Some forms of learning disability are incurable. However, with appropriate cognitive/academic interventions, many can be overcome.
Teachers and parents must work in partnership to provide the correct mode of intervention and help a child to grow up to the best of his/her potential.
Team at AHEAD helps to
Identify the area which is affecting learning the most
Formulate Individualized Education Program (IEP)
Draw a plan of intervention to make learning effective
Involve parents in the process
Structure the learning process
Accept us! Understand us!
Help us to understand you. Be our bridge to your world!!!!